Carriage Room
This historic building features a built-in stage, hardwood floors and a large circular fireplace. Perfect for groups of up to 65 guests.
Cedar Room
Located in the Heick Center (adjacent to the dining hall) this meeting room features removable staging, a fireplace and can seat up to 225 guests.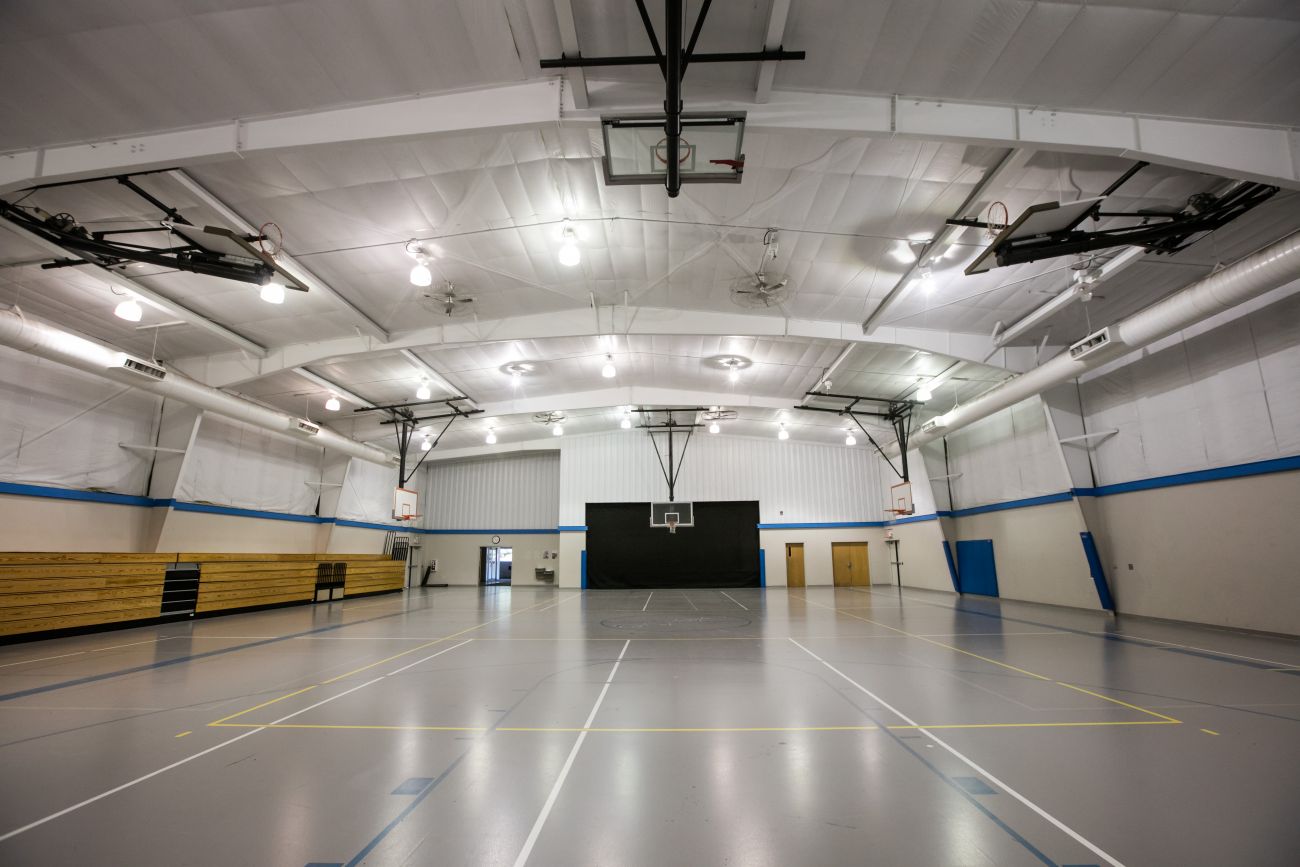 Ceylon Court Gym
Our multi-purpose activity center features full-sized basketball and volleyball courts, indoor climbing wall and much more. Our lobby is available for group registration. Groups can schedule exclusive gym time for up to 450 guests.
Maples Breakout Room
Smaller rooms are ideal for breakout sessions and serving snacks. This room features a sink, refrigerator, coffee maker, microwave and can comfortably accommodate 12 people.
Northwoods Hideaway
Woodsy decor, microwave, and refrigerator make a perfect meeting space for up to 25 guests.
Lower Hayloft
Flexible meeting space for groups of 30-60 with varied seating and partial carpeting.
Upper Hayloft
Large, open space, ideal for crafts, breakout sessions or creative programming for up to 40 guests. Seasonal Use Only.
Woodlands
Large meeting space opens to a lovely outdoor brick patio. Accommodates up to 130 guests.
Woodlands Conference Room
Breakout room with conference table adjacent to the Woodlands Meeting Room. This space is ideal for leadership meetings or small guest gatherings of up to 10 guests.
Camp Chapel
Remodeled in 2010, our beautiful Chapel offers a built-in stage, theatrical lighting, and space for guest groups of up to 450.
Dining & Food
Since great food is an important part of any retreat, we continually strive to provide our guests with outstanding dining options.
From delicious meals in the dining room to late-night snacks for your group, the excellence of our foodservice will surprise and delight your taste buds. Don't forget to read our guest comments below!
Dining Room:
We continually strive to provide our guests with outstanding food. Menus are selected with your group's demographics in mind, and meals are served in an all-you-can-eat buffet style. We know that mealtime is a good time to relax and converse with friends or family members, so we hope everyone enjoys their meal together.
Make your meal an outdoor experience! We can fire up the grills and your group can enjoy a delicious picnic lunch…or we can provide boxed lunches for off-site activities such as golfing, snow skiing, or canoe trips.
7:00 am – Complimentary Coffee & Tea
8:00 am – Breakfast
12:00 pm – Lunch
5:00 pm – Dinner
Dietary restrictions
No problem. We can accommodate gluten allergies, vegetarian diets, and other restrictions. Just be sure your group leader notifies us of dietary restrictions before arrival.
Snack Shop
Visit our snack shop to grab a drink and enjoy sweet and salty snacks. We also offer a variety of smoothies and some guests like to mix different flavors together. What will you try?  You can access free Wi-Fi or play a game from our stash of board games. A variety of seating and tables makes this a welcoming space to hang out and chat or have deeper, relationship-building conversations. Come hang out in this fun, cozy space!
Snack Options
Let us do the work! We will prepare your snacks and deliver them to your meeting room.
Testimonials
"Thank you for excellent food service. We appreciated the manager checking in at each meal!"
Michele, Palatine, Illinois.
"Thanks for being accommodating with gluten-free special needs kids."
Seth, Gurnee, Illinois.
"Everyone loved the food, and the staff was amazing!"
Jamie, Zion, Illinois.
Rec Activities
Your adventures at Lake Geneva Conference Center will make for a lifetime of memories
We have enough extreme recreation options available to keep your group on the edge of adrenaline during your entire stay. Cutting-edge activities and recreation, dynamic spiritual input, and outstanding staff make Lake Geneva Conference Center an excellent place for your group to experience spiritual growth while having tons of fun! We offer a variety of recreation options for any season. Challenge yourself on some of our more extreme activities, or play a casual game of basketball in our gymnasium. Check out all of our recreational options below!
Download Liability Release Form
Year-Round Activities
Giant "Screamer" Swing
Modern Indoor Gymnasium / Multi-Purpose Athletic Facility
Indoor Climbing Wall
Double Zipline
Indoor And Outdoor Volleyball
Indoor And Outdoor Basketball
Paintball
Hiking trails (at Big Foot State Park, adjacent to camp)
Archery Tag
Summer Activities
Outdoor volleyball
Outdoor basketball
Giant Slip-n-Slide
Archery
Swimming
Skiing/Wakeboarding
Tubing
Speedboat Rides
Fishing
Canoeing
Paddle boats
Winter Activities
Indoor and Volleyball
Indoor and Basketball
Snow Tubing (weather dependent)
Hiking Trails (at Big Foot State Park, adjacent to camp)
Broomball